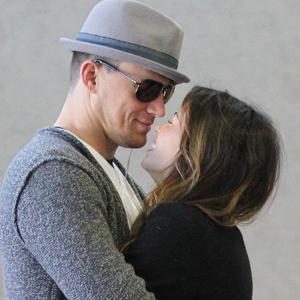 Afternoon Mail! Are Channing Tatum's Stripper Moves Messing With His Marriage?!
Thu, 28 Jun 2012 02:20:01 PM PDT
Dear Ted: My husband thinks I'm demented since all I want to think and talk about lately is Magic Mike. I was wondering about the relationship between Channing Tatum and his wife Jenna Dewan. They appear to be loving and supportive, but do you think his major success will ultimately drive a wedge between them, or is she willing to take the back seat like Rita Wilson? Thanks Ted! —Nic Dear Stripping For Success: Channing's career is certainly on the fast track (and he's got everyone talking about those sexy dance moves!), but I don't see his success ruining his marriage. Every time I see Jenna, she could not be more supportive of her hubby, and Channing's always gushing about his wife. Besides, Jenna's in the Biz too and has a promising career ahead of her. For what it's worth, we love these two together—here's hoping they're one of the few couples who can make it work in H'Wood. Dear Ted: I read about Selena Gomez and Justin Bieber hanging out with Katy Perry and Robert Pattinson—two known Vicers. So does that mean we have to start worrying about the Biebs and Selena? Are they as squeaky clean as they seem to be? —KS Dear Bieber Fever: Selena's the only squeaky-clean celeb in this crew. But, even though the Biebs is a Vicer, I wouldn't worry too much about their ridiculously cute relaysh.   Dear Ted: I heard that Chord Overstreet and Ashley Benson were seen canoodling.  Is this the latest "it" couple? Any Vicey behavior between them? —Tiffany Dear Pretty Little Couple: Considering Chord is always on-again, off-again with Emma Roberts, I certainly wouldn't call Chord and Ashley the new "it" couple. Maybe there's something there, but it's probably just a rebound, if anything. Dear Ted: I checked out the pictures that surfaced of Robert Pattinson and Kristen Stewart attending a friend's wedding and felt really bad for them. As a bride-to-be myself, if my guests leaked photos of a private event I'd be so angry! Do you think this is the reason Andrew Garfield didn't bring Emma Stone? —Krisbian for Life Dear Fellow Krisbian: Emma and Andrew aren't shy about displaying their PDA for the paps, so I highly doubt that's the reason Em was absent. Gal was probably working or had another commitment. And, uh, are you seriously surprised by the leaked photos? It's Robsten. It's inevitable something will surface. Dear Ted: Is Matt Bomer really gay? It seems to me that he participates in so many heterosexual things. He has never really confirmed it, so is it really true? —A Dear Yes: He in fact did confirm it, just in a very subtle manner. He's also spoken briefly about his coming out in Hollywood. Dude's just like any other private guy in Tinseltown—he's not trying to hide anything, but he doesn't make a point of talking about his personal life. Pretty respectable if ya ask us. Dear Ted: I thought Adam Rodriguez of CSI Miami had a part in Magic Mike but had to double-check because he's not mentioned anywhere in the previews. Why do you think that is? He has lovely dimples and he's certainly scrumptious enough—at least my rescue poochette, Farah Diba, and I think so. —Wondering in Montreal Dear Absent Adam: Trust, Adam's sexy and stripping in the flick, but as hot as the guy is, he's doesn't have the audience draw like the other dudes. Bet he's glad you're showing him some love!