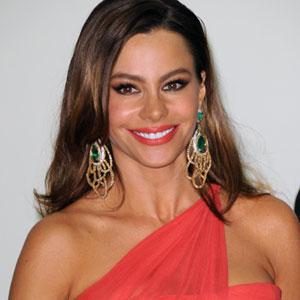 Sofia Vergara Rocks Ring, Says Birthday Bash Was "Amazing"
Fri, 13 Jul 2012 09:07:39 PM PDT
Sofia Vergara still has that birthday-girl glow. The Modern Family star, who celebrated her 40th birthday with family and friends in Mexico earlier this week, said her bash in Playa Del Carmen was "the most amazing thing that has happened" to her.  "I never thought it would be so fantastic to have all my family and closest friends—all the people that I love—to be here in one hotel, in one resort. To be able to travel with them…to go to the town, to be able to party, eat and be in the sun...it was an unbelievable experience for everybody and for me something that I'll never forget."  Meanwhile, Vergara has still said nothing about the ring that is clearly visible on her ring finger in the clip above.  Though it originally looked like the thesp was celebrating not only her milestone birthday, but also an engagement to her boyfriend Nick Loeb, a source told E! News Loeb did pop the question with the ring, but Vergara didn't say yes.  That hasn't stopped the pair from canoodling on their Mexico trip, however.  Loeb and Vergara have been snapped sightseeing together and partying with friends on the beach. So, what was Vergara's favorite birthday gift (if not that massive rock)? Her guests' donations to her foundation, Sueños Sin Fronteras!