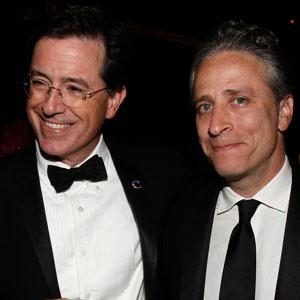 Jon Stewart and Stephen Colbert Extend Comedy Central Contracts--but for How Long?
Wed, 25 Jul 2012 10:52:12 AM PDT
If you love your politics mixed with comedy, you're in luck. Jon Stewart and Stephen Colbert have just extended their contracts with Comedy Central. But for how long? Well, Stewart's agreement will keep him at the helm of The Daily Show With Jon Stewart through the middle of 2015. In addition to his hosting duties, he will also continue to serve as the program's executive producer and writer. As for Colbert, his arrangement will take him and The Colbert Report through to the end of 2014. Like Stewart, Colbert also wears three hats as host, executive producer and writer on his show. The news, though, doesn't come as a complete shock, seeing how The Daily Show and The Colbert Report recently received four Emmy nominations each, and ratings have been up substantially over last season for both programs. But it's still pretty cool news, nevertheless.