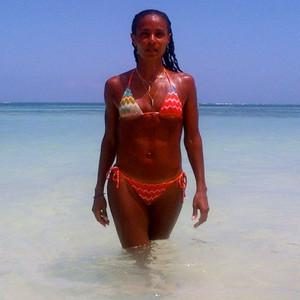 Bikini Shot of the Day: Jada Pinkett Smith--40 and Proud of It!
Mon, 30 Jul 2012 08:00:08 AM PDT
Will Smith's better half is proving she is just that. Jada Pinkett Smith proudly posted a pic of her fabulous figure over the weekend with a pretty inspirational message. "To my Forty and over crew!" she tweeted. "Don't believe the hype... we DO get better with age!" Well, seeing how Jada's fellow contemporaries like Kyra Sedgwick, Halle Berry and Julia Roberts have also been spotted showing off their bikini bods, she obviously knows what she's talking about when it comes to age being nothing but a number. Jada gives no indication of where exactly this photo was taken. But then again, when it all looks this good, does it even matter?