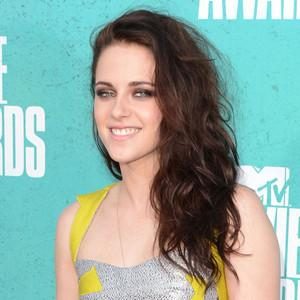 Best and Worst of the MTV Movie Awards: Kristen Stewart Kisses and The Hunger Games Domination!
Mon, 09 Jul 2012 06:56:52 PM PDT
Who's ready for some golden popcorn?! The 21st annual MTV Movie Awards took place at the Gibson Amphitheatre Sunday night and Russell Brand kicked off the show with F-bombs galore as our favorite stars—including Kristen Stewart, Chris Hemsworth, Channing Tatum, Emma Stone, Mila Kunis—took the stage to hand out popcorn-shaped trophies. Missed out all the action? Well then look no further; we've got all the news on the best, the worst and the rest at this year's MTV Movie Awards: READ: MTV Movie Awards Seating Chart: Charlize Theron, Kristen Stewart & More! And We're Off!: Fun. performed their hit song "We Are Young" to start off the show, kicking things off on—what else—a fun note! Most Entertaining Host: Leave it to Russell Brand to start off the show with a bang! The four-letter words were flowing and the jokes poked fun at today's hottest celebs including Kim Kardashian and The Biebs: "Justin Bieber is so pretty that even if he was attacking me, I'd do a little orgasm. It's his hair!" LOL, only Mr. Brand! Worst Katy Perry Joke: Of course Brand had to toss a little dig at his ex-wife, Katy Perry, but the funny guy kept the joke rather PG with an ode to Michael Fassbender: "The last time I hosted I did marry someone who was there, so I'm keeping my eyes open for a new wife tonight. FASSBENDER!" Too much? READ: MTV Movie Awards Seating Chart: Charlize Theron, Kristen Stewart & More! Best Sexed-Up Award: Jennifer Aniston accepted the Best Dirtbag Award in a sexy leather dress for her role as a sex-crazed doctor in Horrible Bosses: "I would like to say thank you for the television show Friends, for allowing me to unleash my inner sweetheart, and Seth Gordon for allowing me to announce my best dirtbag." And uh, WTF: Mila Kunis and Mark Walhberg presented the award after some bizarre heckling from the crowd, prompting Wahlberg to drop his own F-bomb at an audience member harassing Mila Kunis. Hey, we're live, people—anything can happen! Best Real-Life Couple: Could Andrew Garfield and Emma Stone be any cuter?! We were totally obsessed when The Amazing Spider-Man costars took the stage together to present the award for best breakthrough performance. Emma stunned as always with red lips and a simple updo—we're surprised her BF could even focus! Worst Acceptance Speech: Shaliene Woodley accepted the award (while barely avoiding a wardrobe malfunction) for Best Breakthrough Performance for her role in The Descendants. She gave a shout out to Hawaii and the "profound ecosystem around us." Hmm...that's nice, but does she know this is MTV? READ: Johnny Depp Set to Perform at the MTV Movie Awards Best Male Performance: We couldn't help but flash a Hunger Games grin when Josh Hutcherson won the award for Best Male Performance: "Oh my god! I've wanted to hold a golden popcorn since I was 4 years old!" the thesp exclaimed. And it doesn't hurt that he looked pretty fine while accepting his golden trophy! Hottest Presenting Duo: Chris Hemsworth and Kristen Stewart presented the award for best female performance to Jennifer Lawrence for The Hunger Games—Jen thanked her fans via video from Prague. The adorably awkward Kristen and the hunky Hemsworth promoted their movie SWATH as K.Stew applauded J.Law—putting those pesky franchise feuding rumors to rest. Worst Winning Moment: Charlie Sheen rambled for a while before presenting Project X with an Instant Cult Classic award. The infamous party man cracked some rather boring jokes before Wiz Khalifa hit the stage, turning the award show into a massive party.   Best Award Banter: Kristen Stewart and Robert Pattinson took home the award for Best Kiss for the fourth consecutive year. Unfortunately, K.Stew's real life BF was unable to attend, so Kristen asked her fellow costars to join in on a smooch. "Where's my Huntsman?" she asked. "Charlize [Theron]?" she offered. "Where's Taylor [Lautner]?" she pleaded. Shame on you, Charlize! That would have been an epic moment.  Best Makeout Sesh Ever: K.Stew rocked Converse (shocker) on stage and after unsuccessfully attempting to find a makeout buddy, so she decided to make out with...herself. Coolest Snow White ever. And Harry Potter Wins!: Finally! We were starting to wonder if The Hunger Games would steal Potter's glory until the Best Cast award went to Emma Watson and her Harry Potter castmates. Potter continued its winning streak as Daniel Radcliffe took home a fan award.  Best Strip Tease: Our eyes suddenly lit up when Channing Tatum took the stage and started taking off his clothes. Chan's Magic Mike costar Matthew McConaughey put a stop to the strip tease before Joe Manganiello joined the men in a fireman's outfit. With those three hotties all on stage together, this was definitely one of our favorite moments. Best Musical Performance: Johnny Depp, who was rocking his standard hobo-hot look took the stage to accept his Generation Award before performing with The Black Keys. Most Adorable Tribute: The Hunger Games domination continued with an adorable tribute to archery featuring Jennifer Lawrence, J.J. Abrams and Joel McHale. Best Acceptance Speech: Emma Stone proves again why she's one of the classiest babes in H'Wood while accepting her Trailblazer Award and tearing up onstage, saying it's "an honor to be associated with a concept like trailblazing." Boy, do we love her! Most Touching Moment: After some The Dark Knight footage was shown, an emotional Christian Bale took to the stage to introduce director Christopher Nolan. "It's great to see Heath Ledger up there," Bale said with tears in his eyes. Most Epic Footage: Christopher Nolan then introduced the highly anticipated The Dark Knight Rises sneak peek, which fully lived up to all the hype. Worst Best Movie Award: Congrats, Twihards, but we're a little bummed The Hunger Games didn't take home the award for Best Movie—it went to The Twilight Saga: Breaking Dawn Part 1 instead. K.Stew and Taylor Lautner accepted the award, showing their appreciation for the novel and the mega-franchise. And That's a Wrap!: Now, go catch up on all your Sunday TV!