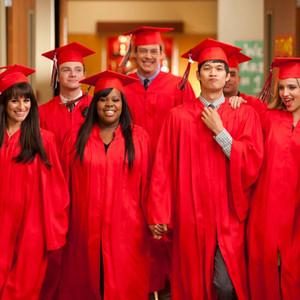 Fantasy Showrunner: What Do You Want on Glee Next Season?
Mon, 09 Jul 2012 04:49:44 PM PDT
When you were watching Glee this season, did you ever want to jump through the screen and manipulate everything that was happening? It's a natural feeling when it comes to a favorite television show you care deeply about; so don't be ashamed to admit it. What if we told you we're giving you an once-in-a-lifetime opportunity to tell us what you want to have happen on Glee before season four kicks off? And not only that, but the Glee powers-that-be could be getting your memo? Oh, yeah! Comic-Con and the Television Critics Association press tour are happening this month, which means we'll be talking to the likes of Ryan Murphy, Brad Falchuck and other Glee power players. And we thought this would be a good opportunity to have the Gleeks of the world put themselves in the shoes of the showrunners and tell us what they would do if they were in charge of Glee.  Fantasy Showrunner is happening on E! Online/Watch with Kristin all this week, and first up is the Fox megahit. Is there a storyline you wish would just go away? Or that you'd love to see more of? A character who deserves more screentime? Less screentime? Nothing is off-limits here, folks. Safe space. The best, brightest and/or most-popular ideas will be showcased next week in our Glee Fantasy Showrunner results post. What are you waiting for? Tweet @kristindsantos, or email tvdiva@eonline.com to fulfill your fantasy showrunner duties. Chack back all this week for more Fantasy Showrunner shows you can sound off on, like Gossip Girl, Grey's Anatomy and more! 1:25 pm Update: We have heard your complains about users voting down comments in the comments section. Please tweet @kristindsantos or email tvdiva@eonline.com to make sure your opinion is heard. We are reading every tweet and every email. Thank you! And please, play nice and be respectful! We obviously won't be using any nasty or mean-spirited comments.